Bianca Body Profile Cream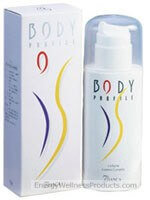 MONTHLY SPECIAL
1 Bottle of Bianca Body Profile On Sale $70.00 each!
Add to Cart
Above prices do not include shipping and sales tax.
Designed for Toning and Tightening, Cellulite and Shaping - Yet it has so many more uses!
Bianca Body Profile offers a unique combination of ingredients. It has a wonderful aroma and can be applied to any part of the body you feels needs to be shaped, relaxed or slimmed. It is a very easy to use slimming cream, just massage it into the area you want to target until it is absorbed by your skin. It is a very non-greasy formula. Its ingredients were formulated to easily penetrate your skin and to improve circulation, helping to reduce water retention and to help smooth, shape and firm your skin reducing the appearance of cellulite. Not only that, if you have a achy muscle or inflamed areas or spots, the anti-inflammatory, analgesic, antispasmodic and tonic properties of these ingredients will also be of benefit! Learn more about how to use Bianca Body Profile with the Slimming Spa or how you can use it with the Energy Wand and E-Power for achey areas.
Main Ingredients
Guarana Extract
Capsaicin
Ginger
Cinnamon Oil
This anti-cellulite cream formula is very non greasy and a little bit goes a long way!
Guarana comes from the seeds of the plant and is found in South America. The seeds contain a high content of caffeine - twice the amount in a guarana seed as a coffee bean. Guarana is said to help increase the blood flow to an area, helping with cleansing and with cellulite. It has nervine and stimulant properties as well as anti-inflammatory, antioxidant and antibacterial effects. It is widely used throughout skin care for its toning and astringent properties. It is also used as an energy booster and is found in many drinks and dietary supplements. When taken internally it can have side effects similar to caffeine, so don't take it internally or use topically if you have adverse effects from caffeine.
Capsaicin comes from an awesome vegetable that can come in many colors, however, it is best known as the red hot chili pepper. Capsaicin is the ingredient found in the pepper that gives it its heat! The heat is what makes your eyes water and your nose run and your skin get hot causing you to perspire when you eat it! Capsaicin has many benefits due to its wide range of properties. These properties include antispasmodic, astringent, diaphoretic (sweating), vulnerary and general tonic. It may help our body in fighting off infections, is known as a cardiovascular tonic which enhances cardiovascular health by assisting some individuals in maintaining a healthy blood pressure. Its also has antioxidant properties which helps neutralize free radicals that can damage our tissues and cells.
Ginger promotes circulation and detoxification. It has analgesic, anti-inflammatory, antispasmodic, diuretic, stimulant and carminative (reduces or prevents gas) properties. It has helped to alleviate menstrual cramps, and is also said to help decrease symptoms associated with sore joints or sore muscles, though some of these studies show some inconsistency. Many people feel that ginger helps in maintain a healthy heart and arteries. Many use ginger for stomach problems.
Cinnamon Oil comes from the bark of a small evergreen tree. It has analgesic, antibacterial, anti-fungal, antiseptic, astringent, carminative, diaphoretic, and stimulant properties. It has a long standing reputation as helping stuffy noses and coughs and other digestive system problems. It is high in antioxidants and has remarkable pharmacological effects in the treatment of Type 2 diabetes. Overall it helps to increase circulation and will relax muscle tension and discomfort.
I love this product! I use it with the Slimming Spa and with the Energy Wand for the E-Power Machine when I am targeting an achy or inflamed area. I also recommend for concerns in relation to cellulite, to add dry skin brushing to your daily routine.
MONTHLY SPECIAL
1 Bottle of Bianca Body Profile On Sale $70.00 each!
Add to Cart
Above prices do not include shipping and sales tax.