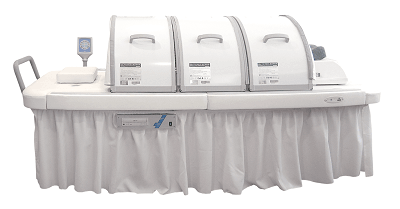 SOQI Bed
Provides benefits similar to Infrared Saunas.
Providing FIR Heat Therapy as well as the benefits of a Therapeutic Massage.
Health * Relaxation * Massage * Relief * Spirit * Therapy
Above prices do not include shipping and sales tax.
12 Month Lease to Own Program Available!
FREE GIFT, DVD AND TESTIMONIAL BOOK WITH PURCHASE!
What is the SOQI Bed Holistic Health Spa
The SOQI (pronounced so-key) Bed consists of the Original Sun Ancon Chi Machine and three SOQI Ceramic Heaters or FIR Topical Warming Units, a high-quality Massage Table and Sound System. The SOQI Bed was designed and built with the highest quality materials to give you an elegant, yet durable product allowing one to totally relax, resulting in eliminating stress.
The SOQI Bed displays a futuristic design and was developed with the focus on today's current health trends. It is a brand new concept in holistic health management and utilizes the latest in scientific technology. The "So" of SOQI represents Solar Energy and "Qi" from SOQI represents life's energy. The SOQI Holistic Health Spa is unique with its multi energy concept integrating Motion Energy, Thermal Energy, and Music Therapy into it's very own unique multi-energy healing product. It does an excellent job in revitalizing you! Many wellness centers (including my own) and individual natural health practitioners use the SOQI Bed in a more professional setting, read about their experiences using the SOQI Bed.
Benefits of the SOQI Bed
The SOQI Bed with its SOQI Ceramic Heaters offering a state of the art FIR Topical Warming Unit that can offer benefits similar to an infrared sauna plus benefits similar to massage with the figure 8 movement of the Chi Machine. These holistic healing benefits include:
Detoxification through the skin (perspiration) with heat therapy. FIR saunas provide this same benefit, although the SOQI Bed covers the entire body, while the sauna has limited areas that emit far infrared rays. Research shows the sweat from a person utilizing far infrared (FIR) contains many more toxins including heavy metals, nicotine, and alcohol.
Assists with maintaining a healthy Weight by supporting an active metabolism.
Supports the overall condition of the circulatory system and promotes circulation.
Due to your body not accumulating so many toxins, it has anti-aging benefits.
Full Body Massage such as relieving minor muscle aches and soreness and relief of tension caused by fatigue.
Promotes an overall feeling of well-being and promotes better energy.
Helps provide movement for the body helping to promote lymphatic draining which can reduce excess fluids.
Relaxing and stress reducing which is foudn to be the culprit in many of today's health problems.
The SOQI Bed uplifts your Spirit and is extremely Therapeutic! I call it the cat's meow!
SOQI Bed Total Holistic Health Management
and Multi Energy Approach.
Qualities of the SOQI Bed
1. The Perfect Combination of Eastern Traditional Medicine and Western Health Technology.
The SOQI Bed consists of traditional Chi Gong, Passive Aerobic Exercise and Massage Therapy in a relaxing spa setting. With its engineering-levelled technology and its health-caring equipment, we are able to offer you a multi-energy "Total Holistic Health Management Spa." This allows you to "manage" your health as well as the other aspects of your life.
2. The SOQI Bed is a Health Enhancing Management System for Today's on the go Person.
Healthy circulation provides many things for the body including the proper delivery of nutrients and oxygen to our cells. If our cells have what they need to function, our energy becomes enhanced. Combine this with the gentle warmth of the SOQI Ceramic Heaters providing FIR Heat Therapy and we have the essential elements needed to achieve great health. The SOQI Bed Total Health Management System combines these characteristics with the movement and massage from the Chi Machine with FIR Topical warmth from the SOQI Ceramic Heater. The SOQI Bed provides aerobic stimulation, and can allow your body to detox through perspiration, while feeling as though you are "sunbathing" safely and comfortably under the ceramic heat rays of the FIR Topical Warming Unit. There is nothing but enjoyment, health and wellness when using the SOQI Bed!
3. A True Experience of Exotic Luxury.
The SOQI Bed is beneficial to one's body, mind, and soul. It provides a feeling of deep relaxation, which can lead to better night-time sleep, better mobility, and better energy for its users. As your body adapts to the SOQI Bed environment it becomes healthy, while your mind and soul become positive.
4. A World-Class High Tech Manufacturer
The SOQI Bed is built in the He Fei High-Tech District of China. In July 2002, the 13,000 square foot building of Merit Technology Development was founded. During that same year, this facility earned ISO9001 recognition. In addition to receiving approval from the Chinese Government's pharmaceutical industry, they were also approved to provide these products in over 30 countries. Their product development, operations management, and innovation in technology are consistently considered to be leading the industry. Not only is the SOQI Bed of such high quality, you can easily take it down and transport it! The SOQI Bed received the Golden Globe Product Award!
5, Future Trends
Scientists have already proven the existence of Chi. Chi is known for its amazing, natural, and effective anti-aging treatment. As increased numbers of people study Eastern Chi, we predict the future trend will continue to lean toward an all-natural Chi experience.
Instructions and Photos for the SOQI Bed
Dimensions of the SOQI Bed Spa
L85" X W42" X H40"
Weight: Approximately 142 pounds
Frequency: 50-69 Hz
Voltage: AC 100V-120V
Consumption: Approximately 1000 Watts
View more SOQI Bed Specifications
The SOQI Bed is the Ultimate Relaxation Experience!
Above prices do not include shipping and sales tax.
12 Month Lease to Own Program Available!
FREE GIFT, DVD AND TESTIMONIAL BOOK WITH PURCHASE!
Precautions: Do not use for at least 3 months after an operation or bone fracture, if suffering from a serious infection, have a bleeding injury or heart disease, during pregnancy, within 30 minutes of eating, if extreme pain occurs during use, investigate the cause and correct the problem before reusing use of the machine. Do not use the SOQI Ceramic FIR Heater if you have a serious heart condition or are using a pacemaker. If you have a medical condition and have a question, you should consult with your physician before using.