Facial Rejuvenation

with the E-Power Machine

The E-Power is an amazing machine! Not only does it benefit all our cells and give us energy, it has wonderful benefits when it comes to skin rejuvenation. It promotes a facial rejuvenation treatment that takes years off your appearance. Did you know that seventy five percent of our skin is made up of Collagen. For those of you who do not know what collagen is, collagen is a protein that is produced by our skin cells.It provides our skin with its strength and resilience. When we have healthy collagen, we have smooth,firm and soft supple skin! Part of the reason we age has to do with collagen because it is infrastructure for skin elasticity and moisture.

The above video is for educational purposes only
and was taken from a SOQI Training Webinar.

The E-Power Machine with its electrical wave of high frequency, actually massages our skin cells 70,000 times per second. This massaging action helps our skin recover its elasticity and look rejuvenated. The E-Power Machines negative potential energy helps balance the cells and our pH which accelerates detoxification also helps our skin look and feel healthier and younger. This massaging actions creates a form of warmth within the lower layers of our skin and collagen. This thermal effect is what helps the collagen to tighten for its skin rejuvenating look!

As you can see in the photos below, examples of before and after of individuals who have used facial masks along with the E-Power Machine's Indicator Pen to enhance the appearance of the skin on their face.
Before and After Photos Using
the
E Power Machine

and Facial Mask.

Before
After
Notice the changes in the size of the pores and the texture of her skin.
This occurred after one 30 minute session using a collagen facial mask.
Notice the changes in the neck with the fatty deposits.
These results occurred after repeated use for several months.
This is such a great tool to use in your home personally or professionally to keep your skin rejuvenated!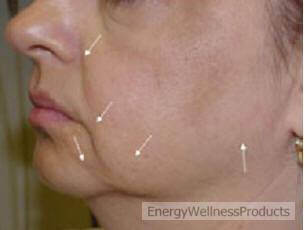 Notice the changes in the facial skin on the cheek
These results occurred after repeated use for several months.
Facial Revjuvenation

Demo and Instructions

If you are interested in doing the this Facial Skin Rejuvenation at home, I mean why not! Please know that I will even send you a printed copy of the instructions along with a FREE Mask when you order the E-Power Machine, or you can download our instructions!
Facial Masks

and Skin Health

You can use any facial mask you like. Just make sure they have quality ingredients. I usually recommend a mask containing aloe vera and hyaluronic acid because these ingredients tend to work well for most skin types and seem to maximize the skin rejuvenation. If you enjoy the mask, you can order more of them via Amazon, Hyaluronic Facial Masks with Aloe Vera
To further improve skin health and give your skin a more youthful appearance, try adding a Collagen Supplement to your diet. Collagen offers your body support for the structural system and promotes skin elasticity and hydration. The E-Power along with Collagen and a bi-weekly Facial Mask will support softer, smoother, and a more youthful-looking skin!
Skin Spots,

Red Spots, Inflammation

Since the E-Power is great for our skin and seems to help with inflammation due to its Negative Potential Effect on our cells, you can also use the indicator pen as demonstrated in the video below for skin spots, red spots, and inflammation.

Please note that Individual results will vary.
---
E-Power Machine
For Balancing and Energizing your Entire Body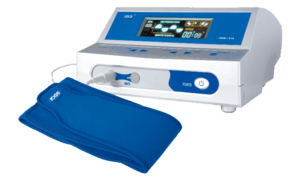 Regular Price $740.00
Sale Price 650.00!
Regular Price $1,260.00
Sale Price 1,100.00!
Regular Price $200.00
On Sale $165.00!
Above prices do not include shipping or sales tax.
FREE DVD and TESTIMONIAL BOOK WITH PURCHASE!
If you live in Canada, Please Shop Our Canada Store!
All our products ship via Fed Ex Ground. Fed Ex, HTE, and Energy Wellness Products will not be held responsible for lost or stolen items. Adding Signature Required to your purchase offers you protection. View Shipping Info. Products shipping to Alaska, Hawaii or Puerto Rico ship via USPS Priority Mail and Require Additional Shipping Charges. Call for Quote.
---