Aromatherapy Products
Aromatherapy a Holistic Approach
Aromatherapy or Essential Oil Therapy offers us a wonderful and holistic approach to wellness that has been around since ancient times. Aromatherapy has been used by itself and to compliment numerous alternative healing techniques. It is safe and effective and works wonderfully for assisting us with our daily routines and our day to day challenges. Essential oils are effective because they are easily absorbed through our skin and through our nose. Which is why they are used in many personal care aromatherapy products and
Our sense of smell is what makes aromatherapy and essential oils so effective. Our sense of smell is one of our strongest senses and can stimulate our brain within seconds. Essential oils can also enter our bloodstream through our skin within several minutes. Aromatherapy is one of my passions and I enjoy making aromatherapy products using my own essential oil blends and recipes. I am a graduate of Aromahead Institute and am a Certified Aromatherapist, which means I have received training in the therapeutic use of essential oils based on the oil's properties.
Essential Oils
Aromatherapy products and essential oils compliment any wellness program perfectly. Essential oils are widely used for the relief of aches and pain, headaches, inflammation, supporting a healthy immune system, sinus congestion, reducing stress, helping you sleep, as an alternative to commercial cleaning products and sanitizers, and more. For more information on essential oils, terminology, how to use them, and to download our free guides, check out our article all about Essential Oils. You can also visit our blog.
Some of my most favorite essential oils and essential oils blends, other than the ones I create myself, are from Nature's Sunshine. They are pure, potent, and effective. Their blends were created by a Registered Aromatherapist and they are very effective! I use their single oils when creating blends for clients, friends and family. I am confident in their therapeutic values and purity. YOu can click on the photo to shop all of their single and essential oil blends as well as diffusers and accessories. I know you you are going to love them! You can also download our Authentic Oils Booklet, explaining the quality, purity and benefits of these oils.
Aromatherapy Products
Aroma Bath Salts for the Shower, Bath or Feet!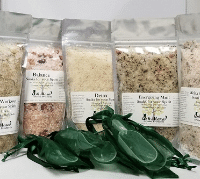 These aromatherapy bath salts are a favorite of our customers and whenever I do a local event they are the first to sell out. They are wonderful for helping you feel relaxed, rejuvenated or less achy. They come with scoop so you can add the salts to your shower, bathtub or for a foot soak. Our bath salts use a variety of salts including Epsom Salt, Himalayan Pink Salt, Dead Sea Salt, and Mediterranean Salt. We also use a proprietary blend of essential oils.
We offer the following blended bath salts and all our salts are packaged in a 1-lb pouch and come with a scoop. They cost $15.00 each
Aromatherapy Essential Oil Inhalers
Inhalers have been around a long time. I remember when I was young I used to use a Vick's nasal inhaler when I had a cold or was congested. I loved it because I could carry it around with me. Aromatherapy Inhalers are very effective and can be used for a wide variety of concerns. I have created several inhalers to assist you with your needs. Each blend has been custom created and contain a proprietary blend of essential oils in an inhaler with an organic cotton wick. Enjoy these essential oil blends and their amazing scents and benefits! Aromatherapy is extremely effective through our sense of smell (inhalation). Our sense of smell is our strongest sense and can initiate responses through our olfactory system that can affect the whole body!
Suggested use: They are easy to use. Just unscrew the top and place the inhaler up to each nostril and take a deep breathe. Don't forget to plug the other nostril. Repeat using the inhaler on the other nostril. You can repeat this 1 – 2 times and you can use it every 2-3 hours. Please note, the aromatherapy scent lasts for approximately 3-4 months.
All of our Essential Oil Inhalers are $6.95.
Aromatherapy Massage Oils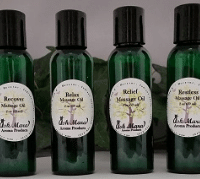 Using essential oils along with a massage is very beneficial. You can create blends to help with a variety of issued including stress, inflammation, and minor aches and pains. I have worked with several local massage therapists to create the following essential oil blends. These blends are great to use during a full body massage or to target a specific area on the body you may be concerned with. Our oils are blended in a base of organic jojoba oil and each blend contains a proprietary blend of essential oils.
Suggested Use: Apply to skin and massage as needed. Precautions: For external use only.
We offer the following blends. All our massage oil blends are 2 oz and are $15.00.
Aromatherapy Roll Ons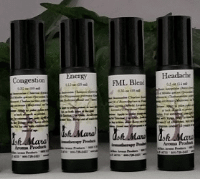 Aromatherapy Roll Ons are a great option for using essential oils. Essential oils can impact our emotions so quickly through our sense of smell traveling right to our limbic system. The following blends were created and need no explanation since their name speaks for itself. We offer the following Aroma Roll On Blends Chill Out, Congestion, Energy, Frankincense and Myrrh, Headache, Muscle Rub and Sleep.
Suggested use: Apply generously, using a circular motion. Can apply to the wrists and the back of neck. Don't forget to inhale after each application. You can reapply every 2-3 hours.
All our essential oil roll on blends are blended in Organic Jojoba Oil, are a 10ml Size and cost $12.95 each.
Aromatherapy Room Sprays
Nothing is more pleasing to the nose than naturally created air fresheners. Not only do they make the room smell pleasant, they are also able to influence ones mood. Whether you need an air freshener for the bathroom or are having guests and want to promote an an uplifting mood, we have a blend for you. Many of our blends also include Bach Flower Essences.
Suggested use: Mist several times throughout the room. Repeat as needed.
All our Aroma Room Sprays are blended in Distilled Water, are 4 oz and come with a fine mister and Cost $10.00 each.
Aroma Whipped Body Butters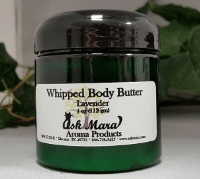 Our body butters melt on your skin and are super moisturizing! They are as their name implies - butters - so yes they go on somewhat greasy, soak in and leave you with heavenly soft skin. They are definitely favorited by our customers and are offered in a variety of blends! Our Body Butters are available for shipment as weather permits. I don't like to ship them during the heat of the summer. Our body butters contain a variety of butters and oils including organic coconut oil, sweet almond oil, shea nut butter, mango butter, coffee butter, and cocoa butter as well as a proprietary blend of essential oils.
Suggested use: Apply to skin to moisturize. Apply anytime moisturization is needed.
All our body butters come in a 4 oz jar and cost $12.00. I hand whip them for creaminess!
Achy Joint Salve
Joint Salve - This is an amazing salve made with arnica and a proprietary blend of essential oils and was designed to assist our body with minor muscle and joint aches. It is easily absorbed and can be used as needed. It has a long shelf life. 1 oz container - $15.00. | Buy Now
Aromatherapy Consultations
If you are dealing with a special issue that you would like some assistance with, let us help you. We can get schedule a time for you to share your concerns so we can create a custom aromatherapy product or essential oil diffuser blend to assist you. You can learn more about our Aromatherapy Consultations.
Our products are made with 100% pure essential oils, natural and organic botanical ingredients and are free of formaldehyde, parabens, synthetic fragrances and dyes, petrochemicals, heavy preservatives, and sulfates. Our products are handmade and custom blended by Mara, a Certified Professional Aromatherapist.
Shipping and Returns
Shipping is FREE via USPS when you order one of our aromatherapy products and we only ship to the USA. Most of our orders are shipped and processed within 3-5 business days. We also gladly accept returns, so if you are not satisfied with your purchase, please contact us and let us know. You can return your product for an exchange or refund. Exchanges and refunds must be pre-authorized and must have a return or exchange authorization number. All exchanges and returns must be received in their original package within 15 days of their delivery date. You can contact us at 800-728-2425 between the hours of 9:00 am EST and 5:00 pm EST to receive an authorization number for an exchange or refund. Please note that shipping to return the product will not be refunded.
Please note: As a general safety measure, you should keep aromatherapy products out of the reach of children and pets. If you are pregnant, nursing, have a medical condition, or are taking medications, you may want to consult with your health care provider before use.
---