Chi Machine, Far Infrared Therapy with
the SOQI Natural Health and Wellness Products
Welcome to Energy Wellness Products. My name is Mara, and I started this website after using the Original Sun Ancon Chi Machine and the Far Infrared HotHouse. Both of these machines have helped me greatly in managing my pain and the many other symptoms I have due to my Reflex Sympathetic Dystrophy also known as Complex Regional Pain Syndrome (RSD/CRPS).
The Chi Machine, the HotHouse, and the Advanced Electro Reflex Energizer are three of the SOQI natural health products that have helped me regain control of my life and my pain. The SOQI Products are great Holistic Health Management Tools! I am hoping to help others by sharing my story, my experiences, and my education. I personally use all of the natural health products talked about throughout this website making it easy for me to share my experiences. I have also expanded my knowledge in naturopathy and wellness. I am well qualified and trained in aromatherapy, herbs and helping others cope with chronic pain. So please do not hesitate to call me with any questions you might have!
If you suffer from any of the following conditions, the SOQI natural health products listed below may be of benefit to you. These products offer benefits of far infrared heat therapy, therapeutic massage, and passive aerobic exercise!
Minor Muscle Aches, Minor Muscle Pain, Minor Muscle Tension, Fatigue, Over Exertion, Tense Muscles,
Continuous Aches and Throbbing, Muscular Aches of the Shoulders, Arms, Hand, Feet, Knees, or Leg,
Wanting to Support Healthy Circulation, Sense of Well Being, Sleeping Problems, Stress and/or Tension.
SOQI Natural Health Products and the SOQI Concept
Passive Aerobic Exerciser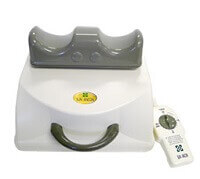 Helps Temporarily Relieve Minor Muscle Aches, Pain, and Tension caused by Fatigue or Over Exertion
Locally Increases Blood Circulation and Relaxes Muscles.
The Sun Ancon Chi Machine is a whole body massager and passive aerobic exerciser that offers benefits for people of all ages and fitness levels. It offers a unique massage experience and similar benefits of a hands on massage, such as temporarily locally increasing circulation. The Sun Ancon Chi Machine maximizes the movement of the body without putting additional stress on it. This helps to provide prompt temporary relief from minor muscle aches and tension caused by fatigue or overexertion. The rhythmic movement of the Chi Machine allows your body to relax, which opens up your bronchioles allowing your lungs to breathe deeply. It is wonderful for individuals who through age or physical limitations cannot exercise because its movement also helps promote movement of the lymphatic system. It is a Class II Medical Device in Canada, License #66598!
Temporarily Relieves Muscle Aches and Tension and Reduces Inflammation
The Far infrared portable sauna dome penetrates deep into our bodies supporting healthy circulation. Good circulation helps us to maintain good health and prevent disease. Far Infrared Therapy is growing in popularity worldwide, especially within the holistic health field, as it is one of the simplest, most effective ways to support healthy circulation. Far infrared is used in sports medicine for the temporary relief of muscle aches, muscle tension, and inflammation. It is being used in a wide variety of ways including clothing. Our far infrared dome is manufactured in conjunction with a medical device manufacturer in Japan. The HotHouse Dome outshines its competition because it is the only dome on the market with a patented crystal lining amplifying its FIR benefits. Our HotHouse is warm and very relaxing and designed for in-home use. Far Infrared Therapy has many healthy benefits including temporarily relieving muscle aches and pains, reducing swelling and inflammation, supporting healthy circulation and lymphatic flow, and helps the body to eliminate toxins through the skin via sweating. Far infrared therapy is also a very safe form of heat therapy and can help induce hyperthermia, which has been shown to be beneficial in the treatment of many conditions.I think of it as how the body develops a fever to fight things off. It is a very warm comfortable heat and feels absolutely wonderful! It is also a Class II Medical Device in Canada!
An Electric Reflexology Foot Massager
Supports circulation, may help with achiness repetitive strains, nerves, tight muscles.
The Advanced Electro Reflex Energizer is based on reflexology and acupressure. It is definitely not just another foot massager! The low frequency electrical stimulation provided by the Advanced Electro Reflex Energizer is used to stimulate the acupressure points on the bottom of your feet. This may help our bodies reconnect the communication between broken or damaged electrical circuits. The Advanced Electro Reflex Energizer stimulates your body using a specific electrical wave form and current. Some individuals, like Hilda Clark, believe that this electrical wave form may help with parasites, yeast and worms by interrupting their own electrical wave form and current. Some experts believe that pain in the body is the result of a suppressed electrical signal that occurs between nerve cells. With consistent use of the Advanced Electro Reflex Energizer and its form of electrotherapy, the electrical signals between cells may be helped and the flow of electricity through painful areas in the body restored. Restoring this natural flow based on reflexology and acupressure may help to keep the circuits turned on and open, promoting healing. It is also a Class II Medical Device in Canada!
Provides Negative Potential and High Frequency Energy!
You might be wondering what Negative Potential and High Frequency Energy are? Negative potential energy is the energy the body uses and needs to rest and High frequency energy is the energy the body uses to generate more ATP. The E-Power Machine was designed to provide both Negative Potential (Anion effect) and High Frequency Energy (Resonance). Our body acts as the capacitor when using this amazing Electrical treatment machine. The E-Power generates 70KHz of High Frequency treatment creating an internal energy that balances and revitalizes us! Negative Potential Energy (Negative Ions) increases the permeability of the cell's membranes and enhances the composition of ATP. ATP is needed by the body and it is what transports chemical energy within our cells for metabolism. All living things require energy to thrive! Our bodies function at the cellular level and our cells require a specific balance of negative and positive ions to function at their best. When our cells function at their best, they are ready to receive oxygen and nutrients from our circulatory system. With today's abundance of positive ions, our bodies need the negative ions to enhance the working of our cells. The E-Power Machine is just the Electrical treatment energy source our bodies need! It is also a Class II Medical Device in Canada!
Orthopaedic Spinal Support Pillow with Massage and Far Infrared
The FIR Cushion is an ergonomically designed lumbar support pillow that can be used in the home, office, or auto! It offers a penetrating massage as well as far infrared heat therapy! It works great at providing temporary relief for the lower back as well as helping you to maintain proper posture!
Provides Far Infrared Therapy in a Heating Pad!
The FIR Pad or Far Infrared Heating Pad uses far infrared therapy, which heats you from the inside out instead of the outside in. The far infrared rays offer a gentle warmth that heats up your whole body even when using it on a specific area. It has multiple temperature settings making it effective for physiotherapy, muscle aches, sore muscles, and joint stiffness. I love this product and use it daily!
Penetrating Percussion Soothing Heat Function!
The Palm Massager is an amazing hand held massager that offers a lot of penetrating massage action for its size. I compare it to one of those large vibrating hand held massagers the chiropractors use. I love it! It has a target specific head and a fingertip control making it go faster or slower depending on your needs. You can also use it with or without heat. It is very easy and comfortable to use and fits in the palm of your hand! I keep it on my night stand!
SO means solar and QI means life force energy.
The SOQI (so-key) Bed is a mixture of solar (sun) and chi (life force) that offers a unique multi-energy approach to a "Total Health Management Spa!" It was designed to be used in one's home or a natural healing or wellness center. It provides the natural energy that is necessary for our bodies to maintain health. Relax in the SOQI Bed's unique spa like setting. Using the SOQQ Bed with its 3 HotHouse Far Infrared Domes and the Original Sun Ancon Chi Machine enables you to "manage" your health and be pro-active. The penetration of the Far Infrared Domes on the SOQI Bed seems to be much more effective than a Far Infrared Sauna due to the 180 degree span of the HotHouses covering your entire body. The SOQI Bed offers great relaxation allowing you to reduce your daily stress. Reducing stress alone offers many health benefits including a stronger immune system. Many benefits to gain from daily use of the SOQI Bed with its chi machine massage and far infrared therapy. It is also a Class II Medical Device in Canada!
We offer several other health and wellness products. If you are interested in Aromatherapy or Natural Skin Care, check out AskMara's Aroma Products. Concerned about what toxins are in your drinking water, Aquasana offers Drinking Water Filters, Shower Filters, and Whole House Units. If you take supplements, I highly recommend Nature's Sunshine Products. Their quality is outstanding and they offer over 500 products including unique herbal combinations. Many have heard about the foot detox baths, I use the Aqua Chi Foot Bath because it utilizes the life-giving properties of water with its specialized bio-electric charge, enhancing the body's ability to detoxify and heal. The negative ions created during a session are similar to those found in hot springs and other naturally charged water sources known to be beneficial for our bodies.
The Original Chi Machine and Far Infrared HotHouse Dome make a great team!
Chi Machine and Regular or Grande HotHouse $1,220.00 / $1,320.00 (USA)

Add RegHH Combo to Cart Add GrandeHH Combo to Cart