SOQI Slimming Spa
Far Infrared
Body Wraps
Helps Break Down Fat, Firm and Shape You.
It's as easy as 1-2-3
Are you ready to shape up and slim down your figure with the SOQI Slim Spa Infrared Body Wraps? So many of us are wanting to do this and each of us has those certain areas we want to focus on. Not only do the SOQI Products offer many healthy benefits, they can also help shape and slim down your figure with their slimming far infrared body wraps. The SOQI Slim Spa was designed to be used in the comfort of your own home or as an additional service for your wellness center. The combination of the Chi Machine, SOQI Ceramic FIR Dome and Electro Reflex Energizer along with the Bianca Body Profile can help you break down fat, slim down and shape you. Below is a video I did explaining the SOQI Slim Spa process.
SOQI Slimming Spa Overview
The above video is for educational purposes only
and was taken from a SOQI Training Webinar.
Stimulate fat for 15 minutes with the Electro Pads of the Advanced Electro Reflex Energizer. This is an additional bonus. Using the Chi Machine with the SOQI FIR Dome is very effective as well.
Apply Bianca Body Profile or a Cellulite Cream of your choice into the area you wish to target. Wrap that area with saran wrap or an ace bandage and you have prepared your area for an infrared body wraps. Massage to promote circulation with a hand held massager or use your hands and these massage techniques..
Relax for 30 minutes under the SOQI Ceramic FIR Heater enjoying the detox benefits of far infrared and enjoy your very own in-home infrared slimming body wrap! You will also use the Chi Machine for 10-15 minutes to provide movement throughout the body promoting circulation and detoxification.
Finish up with Absolute Greens | Green for Life a Super Green Drink Powder that provides enzymes and nutrition!
Step One

- Break Down Fat
Adv Electro Reflex Energizer - SOQI Slim Spa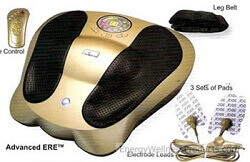 Massage Technology has come along way in a short time. We can now penetrate the body and its fat deeply with vibrations from the Electro Reflex Energizer. The vibration can directly scatter the stubborn fatty tissue. The ultra-low wave of the Electro Reflex Energizer (ERE) can also penetrate the muscle to stimulate the high-speed micro-vibration.
This vibration decomposes unnecessary calories and promotes circulation to carry off the waste in the body. The muscle produces a powerful movement contraction from the ultra-low wave stimulation. The ERE can also take care of the fatty tissue as it devitalizes the fat and calories to firm your skin and muscles.
There are four massage modes that you can apply to all of the above-pictured acupuncture points on your body. These points include your feet, thighs, waist arms, and shoulders. The Electro Reflex Energizer's gentle, relaxing massage can enhance metabolic function and relieve tense muscles while effectively loosening and decomposing stubborn fat cells. You can put the pads on wherever you want to slim and achieve the best weight loss results.
Pick your Target Areas
Just put the pads in the area you want to target, turn the Advanced ERE on for 15 minutes and when your fifteen minutes are through, apply your Bianca Body Profile. Not only will the Advanced ERE help with slimming, but its movement is also good for eliminating tiredness, relieving soreness, massaging deep into your tissue, supports your immune system, supports your metabolism and detoxifying your body. Although many studies have been done utilizing various forms of Electrical Muscle Stimulation (EMS) with some promising results as far as fat loss or inches lost. The FDA believes that although EMS devices may temporarily strengthen or firm a muscle, these types of devices have not been cleared for weight loss or a reduction in the size of your midsection (girth).
Step Two

- Shape and Sculpt
Bianca Body Profile - SOQI Slim Spa
Bianca Body Profile is a sculpting and firming cream. All you need to do is apply just a small amount of Bianca Body Profile Cream to the area on your body you wish to sculpt and firm so that area can be targeted for the infrared body wraps. This is a very effective cream, especially when used in conjunction with the SOQI Products (Chi Machine and SOQI FIR Dome). Remember to check out the these slimming massage techniques. You can also download the Bianca Body Profile Brochure.
Step Three

- SOQI Slim Spa
Promotes Circulation, Detoxification and Lymph Movement
The Chi Machine is an amazing therapeutic massager that promotes a gentle rhythmic figure 8 movement and promotes circulation and provides movement for the lymphatic system. Two really big benefits for helping you rid your body of toxins.
The SOQI Far Infrared Dome is built with an exclusive fine ceramic technology and forms a 180-degree semi-circle. It uses 8-10 micron infrared rays, the most beneficial wavelength for all forms of life. Far Infrared Rays penetrate deep into your tissue, resonates with your cells, and is easily absorbed by the human body. As a result, your body temperature increases, and circulation is improved as well as increasing your metabolism. This results in increased energy, restoration of physical strength, and relief from minor aches. The SOQI FIR Dome provides benefits similar to the benefits received using infrared sauna for weight loss.
The Chi Machine and SOQI FIR Dome help Decompose Unwanted Fat. Using Far Infrared Rays (FIR) or FIR heat, your tissue temperature is gently increased, which can help to process the fat cells in your body. When our body becomes warm, our metabolism also increases promoting thermogenesis (how our body burns calories). The movement of the Chi Machine provides movement of our circulatory and lymphatic system which will help your body process them.
Healthy Benefits - SOQI Slimming Spa
Promotes circulation FIR Heat, as well as the movement of the Chi Machine, promote circulation giving the body an effective way to transport nutrients to our cells and carry off our cells' wastes. Healthy circulation helps you to maintain normal body functions, which can prevent and lessens your chance of getting a degenerative disease.
Promotes Lymph Movement. Movement of the Chi Machine and FIR Heat help support the lymph fluid in the body. Toxic wastes and dead cells are transported out of the body through our lymphatic system. Unlike our heart, the lymph system doesn't have a pump which is why it requires movement and warmth to function. Both of these products allow a more effective way for body detoxification.
Using the FIR Topical Warming Unit after you apply Bianca Body Profile also makes a strong formula for success. The heating and decomposing of unwanted fat assists you in achieving slenderness by directly aiming at particular targets on your body. It is strongly recommended that you drink lots of water with enzymes after you finish treatment on the Slimming Spa. This will assist your body with its natural process of elimination and prevent you from becoming constipated.
Getting Slimmer
Remember The SOQI Slimming Package along with a healthy diet full of whole grains, lean meats and fish, healthy fats, fruit, vegetables including green leafy vegetables, and clean water (1/2 your body weight in ounces per day) will also help your body get rid of toxins and help you maintain or achieve a healthy weight. For more information, you can view our monthly newsletters on Chronic Inflammation and Gut Health. Both of these topics can lead to being overweight and metabolic syndrome. Check out our Detox and Slimming Spa Brochure!
Your Very Own In Home Slimming Body Wraps for Sculpting & Detoxification!
---
SOQI Slimming Spa
Infrared Slimming Body Wraps for Home
SOQI Slimming Spa Package #1
Includes: One Chi Machine,
One SOQI FIR Dome
2 Bottles of Bianca Body Profile
Regular Price: $2,060.00
Sale Price: $1,552.99!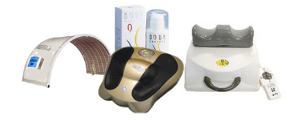 SOQI Slimming Spa Package #2
Includes: One Chi Machine,
One Adv ERE & SOQI FIR Dome
2 Bottles of Bianca Body Profile
Regular Price: $2,620.00
Sale Price: $1,972.99!
---
Products Also Available for Purchase Individually.
Chi Machine $495.00 Add to Cart | Adv ERE $450.00 Add to Cart | SOQI FIR Dome $990.00 Add to Cart | 2 Bottles of Body Profile for $97.99 Add to Cart
Above prices do not include shipping or sales tax.
FREE DVD and TESTIMONIAL BOOK WITH PURCHASE!
If you live in Canada, Please Shop Our Canada Store!
All our products ship via Fed Ex Ground. Fed Ex, HTE, and Energy Wellness Products will not be held responsible for lost or stolen items. Adding Signature Required to your purchase offers you protection. View Shipping Info. Products shipping to Alaska, Hawaii or Puerto Rico ship via USPS Priority Mail and Require Additional Shipping Charges. Call for Quote.
Precautions: Do Not use for at least 3 months after an operation or bone fracture, if suffering from a serious infection, have a bleeding injury or heart disease, during pregnancy, within 30 minutes of eating, if extreme pain occurs during use, investigate the cause and correct the problem before reusing use of the machine. Do not use if you have a pacemaker or any other electronically implanted device. If you have a medical condition and have a question, you should consult with your physician before using.