Advanced

Electro Reflex Energizer
Model SW-2000N
The Electro Reflex Energizer is a Reflexology Foot Massager Machine that gives you a Full Body Experience as well as the Benefits of a Reflexology Massage! The Electro Reflex Energizer helps with Muscular Tension; Promotes Circulation; Massages the Feet and/or Hands Helping to Relieve Foot Pain and Hand Pain, Muscular Aches and Much More! Promoting circulation of the feet may also be helpful for relieving symptoms associated with diabetes, leg cramps, restless legs, neuropathy, plantar fascitis, knee pain, and foot pain.
The Advanced Electro Reflex Energizer (also known as the ERE or Advanced ERE, reflexology foot massager, foot and leg massager, or the SOQI Foot Machine) utilizes low frequency electric stimulation to stimulate acupressure points on the bottom of the feet based on the principles of reflexology and is known as electrotherapy. It provides an overall feeling of relaxation as well as promoting circulation. It includes 3 sets of Electro Pads (similar to a TENS Unit) which can be used to stimulate large muscle groups throughout the body helping to reduce tired, sore and achy muscles.
What is the Advanced Electro Reflex Energizer
The Advanced Electro Reflex Energizer can be used on the feet as well as the hands. It is used to promote overall well-being and relax and revitalize your entire body. It is best to use this product between 5-30 minutes a day. The Advanced Electro Reflex Energizer has helped many people because it helps the body to relieve various types of muscle soreness, stimualtes and relaxes leg muscles, and offers benefits similar to the Zapper. If you don't know what a Zapper is, it is a product designed by Hulda Clark back in the 90's for the purpose of helping the body flush out parasites, viruses, bacteria, mold, fungi using electrical currents or electrical stimulation.
The Advanced Electro Reflex Energizer (Advanced ERE) is an instrument that not only massages your feet, it helps the communication highway of the body. Many people believe that when the body experiences discomfort, there is a resistance, that means the electrical and chemical signals between cells are being suppressed. Consistent use of the Advanced ERE may assist your body in maintaining its communication highway through balancing it. I think this is one of the best foot massagers on the market today.
About
Reflexology
The Advanced Electro Reflex Energizer took the benefits and principles of Reflexology and Electrical Stimulation and combined them. According to Webster's Dictionary, Reflexology is the "massage of the hands or feet based on the belief that pressure applied to specific points on these extremities benefits other parts of the body". We all know that when we massage the feet and hands it promotes the circulation of your blood while loosening tight and tense muscle tissues. Since ancient times, China has beleived that the bottoms of the feet and hands are divided into approximately 25 parts. Each part correlates to a different organ, gland or part of the body. According to Traditional Chinese Medicine, reflexology may help relieve the congestion of these organs opening up the the flow of "chi" through the meridians by promoting relaxation and improving overall circulation. This is why Reflexology is the art or science that focuses on reprogramming the atoms, cells, and electrons of the body to their original and balanced state through the triggering of these signal points on the foot or hand (Zone Theory). Reflexology offers a very unique method of massage and benefits.
Dr. Brent Bauer, MD beleived that "Reflexology is generally relaxing and may be an effective way to alleviate stress." Several studies have been conducted that indicate reflexology may have benefits in patient care involving palliative cancer care, and helps with the psychological symptoms of anxiety and depression and was found to reduce pain.
Electrical
Stimulation
Electrical stimulation is often used to stimulate the skin to relieve muscular tightness and soreness. The signals received by the body through the skin are able to relieve this tightness and throbbing because the signals interfere with the neural transmission of certain signals from the underlying receptors of our body, so the signal gets cut off. These same signals our body receives through our skin via electrical stimulation also duplicates the signals from the cells that make up our nervous system which send messages to the muscles in our body causing our muscles to contract and allowing for the movement of certain body parts, like our hands or our feet.
Most of us don't think about it, however, when we go to move one of our body parts, such as our hand or our leg, our body sends electrical signals throughout our nervous system to our muscles. These signals tell our muscles to contract and our body part moves. Even though it is known that this is how our body moves, and that electrical stimulation has this same effect on our muscles, it is very perplexing to many doctors. Theoretically many doctors have found that the brain may be able to actually recapture and relearn movement by repeatedly using electrical stimulation which eventually leads the body to perform some of these functions once the electrical stimulations stops. Amazing! The Electro Reflex Energizer utilizes the power of electrical stimulation.
Benefits of the
Electro

Reflex Energizer

The Advanced Electro Reflex Energizer offers many features and benefits of reflexology and electrical stimulation. Many customers found that the benefits of its reflexology foot or hand massage and electrical stimulation helped relieve their foot pain, leg pain and was very beneficial for plantar fascitis. There is some studies stating that these two forms of therapy may even help with diabetic neuropathy (PMID: 24124947; PMCID: PMC3876364) and carpal tunnel syndrome (PMID: 19682653).

The Adv ERE also comes with electro pads which is helpful for targeting large muscle groups. It can help with pain, muscular aches and tension throughout these large muscle groups, including the lower back pain. The ERE is listed with the FDA to be used as a therapeutic massager. Health Canada has approved the ERE for the relief of stressful aches and pains, to ease tension and reduces fatigue, and to improve local blood circulation. The electro pads can also provide a very soothing massage action.

A few years back, I was suffering with plantar fascitis and wow it is painful! During my healing process I used the Adv ERE several times a week, did a daily series of plantar fascitis stretches and ordered a pair of custom made orthotics. I now have happy feet again! To Learn more about reflexology, electrical stimulation and the zone theory, and how it has helped many other customers by reading the Information Booklet. You can also download the Advanced Electro Reflex Energizer Brochure.

Please do not hesitate to call me at (800) 728-2425 with any questions about the products you might have. There is only so much information we are allowed to put in print!
Electro

Pads

The Advanced Electro Reflex Energizer's best and most exciting added feature is the Replaceable Electro Pads (similar to a TENS Unit you can purchase in a drug store) that can be used to pinpoint and stimulate additional areas such as the neck, shoulder, and back. These Electro Pads work just like a TENS Unit allowing you to loosen up your tight muscles and help to relieve those nasty throbbing aches! There are 3 sets of Electro Pads included with the Advanced Electro Reflex Energizer. You are able to use all of the Electro Pads at the same time you are using the machine on your feet or hands! You can also control the stimulation through each set of Electro Pads. An additional benefit of the Electro Pads is you can use them to target areas on your body you want to lose a few inches, especially around the waist. The Electro Reflex Energizer is part of the Slimming Spa.

One of the questions I get most is "Where do I place the pads"? Well it is best to place one electro pad where your painful or tender area begins, and one electro pad where your painful or tender area ends. It is best to target each area with one set of pads and to make sure the pads are at least one inch apart. You can view this reference guide for placement of tens units pads which are similar to the electro pads used with our unit.
Features of the
ERE
Slightly Heated Foot Pads which are Soothing and Warming for your feet and/or hands.
Single Remote Control for ease of use as well as an Indicator Control Panel View our instructions on "How to Use the Advanced Electro Reflex Energizer"
4 Different Massage Modes listed below. Please feel free to download our ERE Modes Information Sheet. Each mode corresponds to different areas on the feet.

The Pounding Mode works the bottom center of your feet and inner calves.
The Relaxing Mode works the top part of your feet, outer calves and ankles.
The Massage Mode works your toes.
The Auto Mode runs through all three modes working all areas of your feet.

Frequencies are controlled by 2 different output buttons that allows you to fully control your intensity level.
Timer allows you to set a session from 5 - 60 minutes.
3 Sets of Electro Pads - Pads can be used separately or while you are massaging your feet and/or hands and provide electronic muscle stimulation. Electro Pads are replaceable and can be used to pinpoint and stimulate additional areas such as the neck, shoulders, or back.
Lightweight and Portable - Easy to travel with.
Low Frequency of 50-60 Hz.
Advanced ERE

- Electro Reflex Energizer
Model SW-2000N

The Foot Massaging Action of the Advanced ERE Reflexology Foot Massager Soothes and Relaxes Tired and Sore Feet,
Legs and Muscles while Promoting overall Circulation!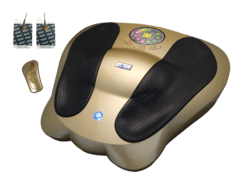 Electro Reflex Energizer
Model SW2000-N
Regular Price $560.00
Sale Price $450.00!
E-Power &
ERE Machine
Regular Price $1,410.00
Model SW2000-N & HBM-618
Sale Price $1,070.00!
Regular Price $210.00
Sale Price $170.00!
---
Above prices do not include shipping or sales tax.
FREE DVD and TESTIMONIAL BOOK WITH PURCHASE!
If you live in Canada, Please Shop Our Canada Store!
All our products ship via Fed Ex Ground. Fed Ex, HTE, and Energy Wellness Products will not be held responsible for lost or stolen items. Adding Signature Required to your purchase offers you protection. View Shipping Info. Products shipping to Alaska, Hawaii or Puerto Rico ship via USPS Priority Mail and Require Additional Shipping Charges. Call for Quote.
Product Specifications

and Photos
View Online | Download a Copy of the Electro Reflex Enegizer
Reflexology Foot Massager Manual and Photos.
Model No.SW-2000N
Weight: 6lbs
Size: 16" x 14" x 4"
Power supply AC 100-240V/50-60Hz
Power 18W
Timer 5/10/15/30/45/60 Minutes
Operating temperature Range 32 F to 104 F (0 -C to 40 C)
4 Modes Pounding, Relaxing, Massaging and Combination
6 adjustable Electro-pads (similar to tens unit)
Far Infrared heat in foot pads
On-board and Wireless Remote control
Precautions: This reflexology foot massager should not be used if you have or use any electronic medical instruments such as implanted heart-beat regulators, artificial hearts or lungs, implanted pacemakers.Persons who are pregnant, nursing a baby, or have any medical condition should consult with their physician before using. If you have a medical condition and have a question, you should consult with your physician before using.